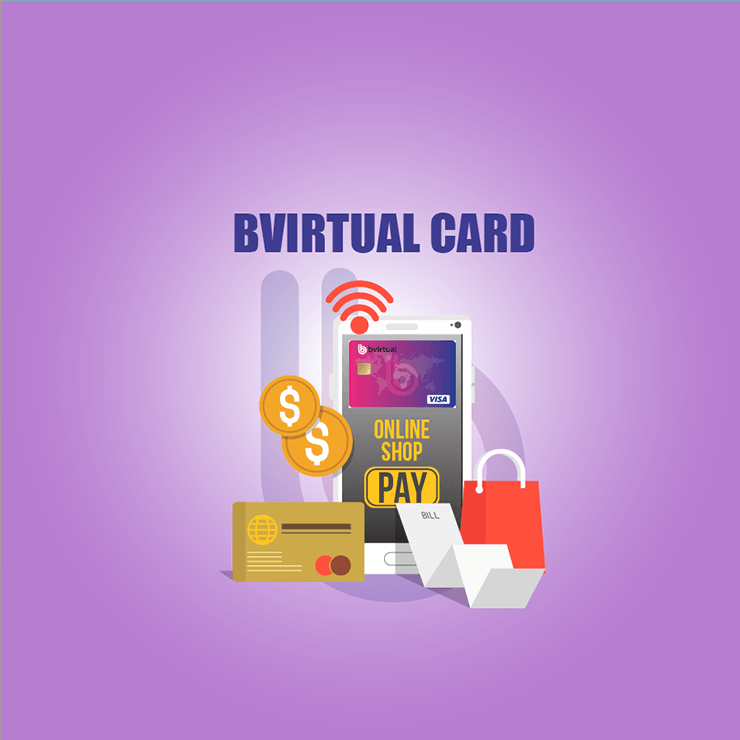 Bvirtual® "Virtual Prepaid Card Interface" is designed to significantly complement internationally accepted prepaid cards as a virtual equivalent powered by a secure mobile app. This means that customers or users of the program will be able to acquire valid MasterCard/virtual Visa cards "interfaces" (accepted globally by online merchants) via a mobile application, satisfying all KYC and industry security requirements.
Funds are loaded onto the virtual cards ahead of any purchase or transfer transaction this is to insulates cardholders from the know risks of card transactions.
How To Register
Download the prepaid virtual card that fits your needs. Register for the card with a valid national identity document.
Virtual Card (Instant Issuance)

To acquire a card interface, user (customers) will have to download the Bvirtual® mobile App online from (play store, app store, windows store) and register with a valid national ID (as per current compliance modalities in acquiring a plastic version issued by a participating bank). All industry standard card issuance security and compliance protocols and customer service activities are observed during this process.

Plastic Option

Depending on the Card program specification with partnering banks, customers may also have the parallel option of the plastic equivalent for use on ATMs and POS terminals where accepted globally by Visa or MasterCard.
How The Card Interface Works
Before registering for a Virtual card, it's important to know how they work and how they differ from debit cards.
Transactional Use Cases and Channels

The virtual card interface allows the user the convenience of spending within the limit of funds loaded onto the card. Just as with typical attributes of the plastic equivalent, the interface protects the cardholder from the risk of exposing his/her traditional bank accounts to online fraud and can block and unblock card at any given time via the mobile app, providing convenience, accessibility & security.

Plastic Option

The virtual card is loaded and "energized" seamlessly with funds from user (customers) mobile money wallets i.e.(MTN, Airtel, Vodafone).

REAL TIME ISSUE
Improves cash flow – "The Quest for Immediacy". Bvirtual® cards are issued, funded and delivered electronically in real time, transforming user's cash flow management.

FRICTIONLESS USER ACTIVITIES
Since reloading the virtual card doesn't require access to physical financial institutions for funds. No need to visit a bank branch in order to "load" funds onto a prepaid card.

FINE-GRAINED CARD CONTROL AND INTERACTIVE USER EXPERIENCE
At the time of issuing, clients have instant control over card use through a time-validity window that enables value updates, cancellation, and user-defined use life-style patterns. This is done via a powerful, intuitive and aesthetically appealing User Interface (UI).

INSTANT AND PERFECT CARD-HOLDER RECONCILIATION
Each virtual card is linked to data sources per activities and transaction history — such as order numbers, purchase, transfers etc — supporting precise and automated reconciliation for the card user, overcoming a major weakness of traditional debit/credit cards.